Promises Under the Peach Tree blitz #newrelease, #romance
This is my stop during the book blitz for Promises Under the Peach Tree by Joanne Rock. This book blitz is organized by Lola's Blog Tours. The book blitz runs from 2 till 8 September, you can view the complete blitz schedule on the website of Lola's Blog Tours: http://lolasblogtours.net/book-blitz-promises-under-the-peach-tree-by-joanne-rock/

Promises Under the Peach Tree
By Joanne Rock
Genre:…
A #fairy summer Fling #MySexySaturday, #Saturday7 @MySexySaturday
 

A Sexy Summer Fling ~ @MySexy Saturday #MySexySaturday #Saturday7 Herein Ianthe and Briak are …still figuring out where they're going to go with their attraction. As summer advances, so do their flirtations.  

[Briak] leaned in; [Ianthe] wavered a moment, lips parted. Would she accept another kiss?

Boots from another ranch hand clicked further down the stables.

Ianthe paused, blinked, and…
Our Sexy Starry Night ~ @MySexySaturday Changeling's Crown #MySexySaturday
 This is, technically, my first attempt at My Sexy Saturday. Let's see how this goes.

This is from my fantasy romance Changeling's Crown.

Ianthe and Briak's first kiss and first trip into the Dark Grove….

You must see what I am. Don't you see it? To illustrate, she strengthened her magic. Faery dust shimmered pink on the air. He must see it. [Ianthe] spread her arms.

Darkness fell. A crowd's…
Twitter 101–or public service announcement for writers…and anyone else who needs it.
One of the things we're always told, as writers, is that we must blog, blog, blog. The second most important thing once you've blogged (and this can be true for any other kind of blogger too) is that people must share your blogging. That's not all that hard in this day and age. Most blogging systems provide gadgets that a reader can click to open your post up on Facebook, Twitter, and the like.

N…
I'm pleased to have an author here today many of you might know. Paranormal author, Ms. J.D. Brown, has a new book release and she's sharing it with me. *rubs hands gleefully* Entitled Athena's Oracle it looks to be a good read. Shall we check it out? Okay.

Here's the blurb:

For sale August 18, 2014…

Athena's Oracle: An Heiloom Vampyres Novella
by J.D. Brown

Leena's 'gift of sight' secures her…
H. L. Burke - Dragon's Curse - The Dragon and the Scholar Tour @typativemamacat #fantasy #newrelease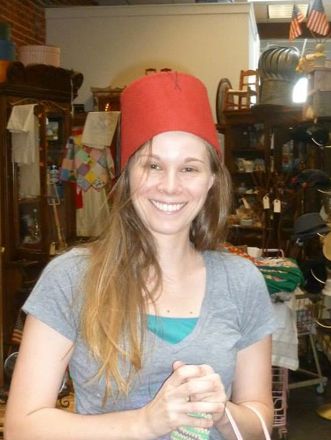 I have another guest for you today, fantasy author H.L. Burke has stopped by and she's brought dragons! Don't worry, they don't really look hungry. ;) They're just kinda guarding us. So do come sit by the fire, have some coffee, or ale, whatever you like best, while H.L. Burke tells us a little story about the latest in her fantasy series, The Dragon and the Scholar … H.L.  And do check out her…
Enjoy the rain…Well. Maybe. #writing, #blogging
Two stops on the blog tour tonight, if you'd like to see them: Coffee, Art and Books, with a guest post about Changeling's Crown and Peace Love and Writing. It's been a rainy, thundery day today so I did way more plotting than anything (yep, I'm writing again!).

Pick your favorite rain related song and have a great one! :)
My ancestors sent me a little lizard to help me?
Reblogged from:
offense-is-the-best-defence